About Us
The Organisation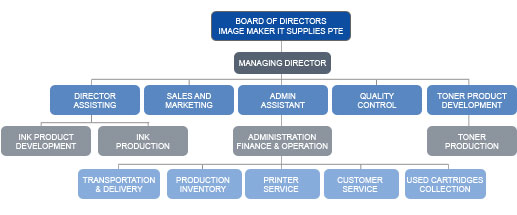 Starting off as a proprietorship company 10 years ago, we have now incorporated to a private limited company since 2002. It has enables the organization to spread its wings to meet demands for quality services, products, and management. A trust in its name, Image Maker IT Supplies Pte Ltd was awarded the ISO:9001 in year 2001.
As a start, our focus was on the potential of export market, true to it, it still stands as an asset for the company. Today, we put our strength back to the local market but continue to export to other countries such as Taiwan, Vietnam, Indonesia, and USA. We strongly believe in giving only the best to out customers thus we set up the Printer Service and Repair Department to enhance netter technical supports and servicing needed for our customers. We also provide contract green manufacturing suitable for any business. Our customers are all treated with top priority, no business is too small or too far. We engaged in recycling plan, trade in and also buying back of used toners and ink cartridges. We were issued a Waste Disposal License as we meet requirements for proper measures for waste management.
Image Maker is behind your print. Perfect print everytime you print with us.